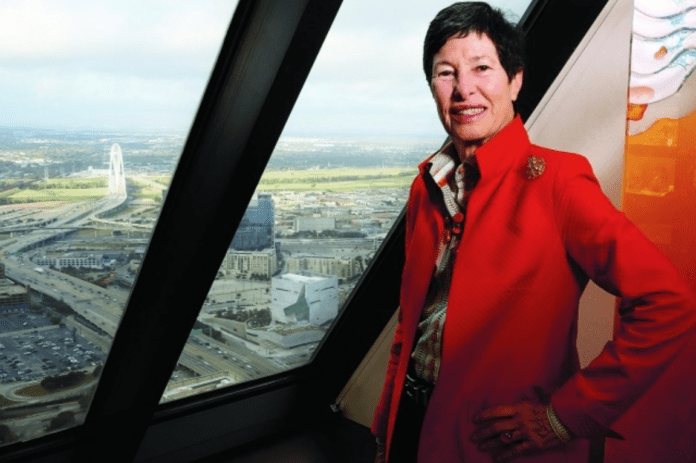 Billionaire Hunt Petroleum Heiress Lyda Hill
The Billionaire in the Room:
After market close yesterday, Remeditex Ventures filed their 13D filing for their ownership in Solition Inc. (NASDAQ: SOLY).
According to this filing, Remeditex owns 58.7% of SOLY.
After doing a little digging around into Remeditex, we discovered that it has been solely funded by a woman named Lyda Hill Hunt.
It turns out that Lyda's maternal grandfather was the late H.L. Hunt of the Hunt Petroleum family and according to Forbes, their net worth is north of $13.5B.
The Hunt family has been involved in a multitude of projects, but the most notable appear to be that they own the NFL's Kansas City Chiefs and a minority stake in the NBA's Chicago Bulls, plus a ton of real estate assets around the US.
According to Lyda's philanthropy website, she launched Remeditex Ventures to invest in early biomedical research by universities and health care institutions designed to take promising scientific advances to the marketplace quickly.
It just so happens that Soliton's RAP device originated at the MD Anderson Cancer Center (MDACC), based in Houston, TX and it's the largest research center in the world and MDACC still remains a shareholder of Soliton today.
———————————————————————
DISCLAIMER: This report is for informational purposes only, and does not represent a solicitation to buy or sell the profiled company's securities, which trade under the symbol soly, nor any other securities. Neither NasdaqStocks.com nor its employees are certified financial analysts or licensed in the securities industry in any manner. The information in this marketing piece and any accompanying information is subjective opinion and may not be complete, accurate or current and was paid for directly or indirectly by shareholders of the profiled company who may or will profit as a result of the preparation, publication and distribution of this marketing piece and accompanying information. NASDAQSTOCKS.COM is owned by MILLIONAIRE MEDIA LLC., a Nevada Corporation who's owners have been compensated ten thousand dollars and twenty five thousand shares of restricted stock by Soliton Inc. for a period beginning March 8th, 2019 and ending June 8th, 2019 to publicly disseminate information about Soliton Inc, its products and services for potential customers and that while the company is publicly listed and its shares can be bought and sold, the purpose of this advertisement it to present information and awareness about Soliton Inc. and its products and services. NasdaqStocks.com also expects to garner new subscribers as part of its efforts. This marketing piece contains forward-looking statements that involve risks and uncertainties. This marketing piece contains or incorporates by reference forward-looking statements, including certain information with respect to plans and strategies of the featured Company. As such, any statements contained herein or incorporated herein by reference that are not statements of historical fact may be deemed to be forward-looking statements. Without limiting the foregoing, the words "believe(s)" "anticipate(s)", "plan(s)" "expect(s)" "project(s)" "will" "make" "told" and similar expressions are intended to identify forward-looking statements. There are a number of important factors that could cause actual events or actual results of the Company to differ materially from these indicated by such forward-looking statements. Certain statements contained herein constitute forward-looking statements within the meaning of Section 27A of the Securities Act of 1933 and 21E of the Exchange Act of 1934. Such statements include, without limitation, statements regarding business, financing, business trends, future operating revenues and expenses. There can be no assurance that such expectations will prove to be correct. Investors are cautioned that any forward-looking statements made by the Company, or contained in this Report are not guarantees of future performance, and that the Issuer's actual results may differ materially from those set forth in the forward-looking statements. Difference in results can be caused by various factors including, but not limited to, the Company's ability to be able to successfully complete planned funding agreements, to successfully market its products in competitive industries or to effectively implement its business plan or strategies. To reiterate, information presented in this Report contains "forward-looking statements". Any statements that express or involve discussions with respect to predictions, expectations, beliefs, plans, projections, objectives, goals, assumptions, or future events or performance are not statements of historical fact and may be "forward-looking statements." Forward-looking statements are based on expectations, estimates, and projections at the time the statements are made that involve a number of risks and uncertainties which could cause actual results or events to differ materially from those presently anticipated. Forward-looking statements in this Report may be identified through the use of words such as "expects," "will," "anticipates," "estimates," "believes," "may," or by statements indicating certain actions "may," "could," or "might" occur. More information on the Company may be found at http://www.sec.gov; readers can review all public filings by the http://www.sec.gov.