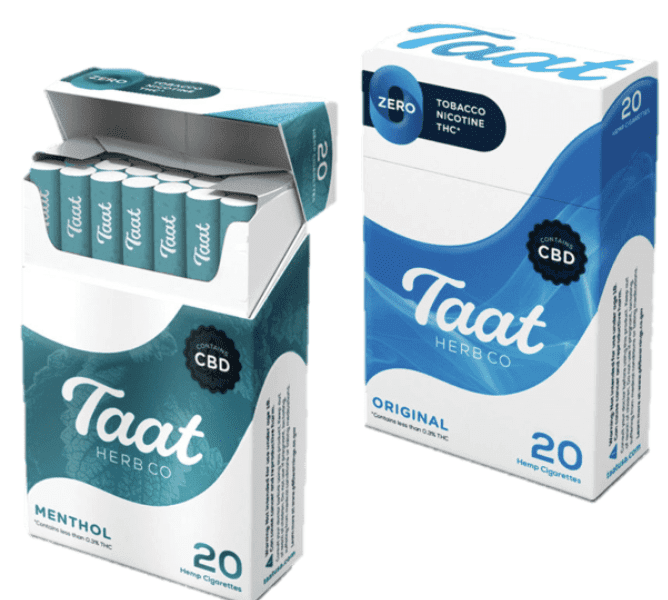 Six Reasons that (CSE: TAAT)  (OTC: TOBAF) is Going to be the Hottest Stock of 2021
The cigarette business is still a big one. With it being such a health concern, we like to pretend it isn't, but globally, it's an $888 Billion business. Worldwide one in six people are hooked on this unhealthy habit.
What if there was a way to give this market what it wants, but without the negative side effects? Such a product seems like wishful thinking, doesn't it? A cigarette without the drawbacks of a cigarette would change everything.
Enter "BEYOND TOBACCO", from TAAT Lifestyle and Wellness (NYSE: TOBAF)
Not only does this product exist, but it's ready to be sent to market. Taat has created hemp-based cigarettes, with no nicotine, no tobacco and even no THC  – "Beyond Tobacco"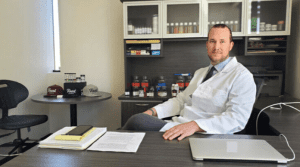 Taat is the brainchild of Joe Deighan, the maker of Wild Hemp, the first hemp cigarette to ever hit the market. He has refined the process and teamed up with a new CEO, Setti Coscarella, who ran the Alternative Tobacco division at Phillip Morris. Coscarella has worked closely with individual smokers and knows exactly what it is that draws them to cigarettes. Paired with Deighan's expertise in hemp, Taat has created a product that looks, feels, tastes and smells just like a cigarette – but the only active ingredient is CBD, which cuts into nicotine withdrawal with its anti-anxiety properties.
Taat is going to totally revolutionize this trillion-dollar market – and here are just the top six reasons why.
NUMBER ONE: MAJOR BACKING
October 9th was a huge news day for Taat, with the closer of an over $6 million-dollar private placement by a group of investors that included Ms. Debbie Chang, co-founder of Horizon Ventures.
For those of you who don't know, Horizon Ventures Limited is a Hong Kong firm that manages the private investment of Sir Li Ka-shing, the 30th richest person in the world and owner of the second largest charitable foundation after Bill Gates. Li Ka-shing is a massive presence in the Asian Venture Capital market.
China has over 300 million smokers – nearly as many smokers in China as there are people in America. Awareness over the dangers of smoking in China is only rising, and support from Horizon Ventures limited puts real heavyweight support in Taat's corner. 
NUMBER TWO: INDUSTRY EXPERTS CHOSE TAAT AS THE WAY FORWARD
Setti Coscarella is not the only high-profile figure from Phillip Morris to have jumped ship to Taat. CRO Tim Corkum had over 20 years at Phillip Morris International, specializing in sales and commercialization before leaving for Taat. The company also recently added Michael Saxon to its advisory board, who also had 20 years' experience with Phillip Morris, as a growth strategist. All of these industry experts choose to resign their positions at one of the most powerful tobacco companies to move to Taat. These are people who know the cigarette and cigarette-alternative market, and they all believe enough in Taat enough to jump ship for it.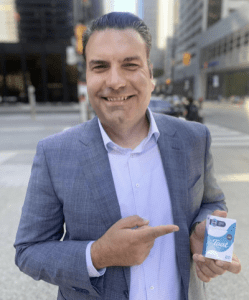 How huge this is cannot be overstated. Tobacco is not a market where new brands just appear – there hasn't been a new brand in the space in decades. And yet Taat is already attracting the most forward thinking and experienced members of this market. These industry experts know that alternative options to products we already consume are what the world is looking for. Setti Coscarella's entire job at Philip Morris was to look for these alternatives – and he decided that the best alternative was "Beyond Tobacco" after trying the product for himself. Just a sample was enough to convince him that this was the best way forward.
NUMBER THREE: A MASSIVE EXISTING MARKET
Taat is aiming to target the American cigarette market first. Despite growing health concerns around cigarettes, and aggressive warnings, the cigarette market in the US is still significant. In 2018 alone, 215 billion cigarettes were sold to 34 million smokers in the US – about 14% of the entire population. Two thirds of that group are what we would call "chain smokers" who smoke more than 15 cigarettes in a day – meaning a visit to a convenience store to pick up a pack is a part of their daily routine.
Indeed, convenience store owners in the US have estimated that nearly 30% of their in-store sales come from cigarettes.
Taat has stated its goal is not to try and covert new smokers, but to target these existing smokers – people for whom smoking is part of their life, but also crave a less harmful alternative. "Beyond Tobacco" is that alternative – the best alternative.
The thing is, not only would Taat be targeting this huge existing market, it would be able to perform better in it than actual cigarette companies. Tobacco products have been burdened by severe taxation as well as strict regulations. Taat's "Beyond Tobacco" blend is made from hemp, which has incredibly generous regulations – much less than tobacco, and much less than even cannabis grown for marijuana products. Where tobacco struggles to get to market, "Beyond Tobacco" can be delivered at a lower and more attractive price. In how many markets that you can think of is the healthier "premium" option the more affordable one?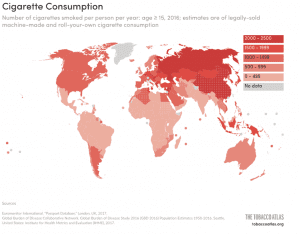 NUMBER FOUR: PATENTED – NO SUBSTITUTION
After Taat developed the hemp blend to use in their "Beyond Tobacco" product, they discovered that the process for it was novel, and quickly moved to secure a patent. This proprietary "Beyond Tobacco" blend has a unique, rich flavour to it that now has legal protection against reproduction.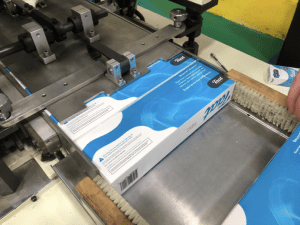 This is a huge benefit. Not only does Taat already have its manufacturing ready to start producing its produce in large quantities to take the North American market, no other latecomer brands will be able to give the exact brand experience that Taat will. Every other competitor is going to be stuck playing catch up.
NUMBER FIVE: OUTSTANDING PRODUCT
A patent is great but needs a great product to be attached to. Previous attempts to provide a replacement to cigarettes have often struggled to entice away smokers. Less than 10% of attempts to quit smoking are estimated to be successful. Smokers have complained that vaping, gums and patches just feel too different.
Coscarella, working closely with real smokers, has understood that beyond the nicotine, there's no one thing that attracts customers to smoking. It's the taste and the smell, but also the ritual of taking out and lighting the cigarette. For some it's an oral fixation – for others its having something to do with their hands.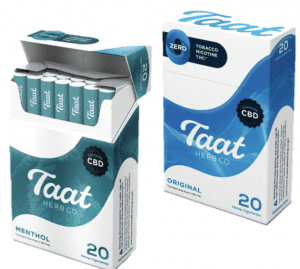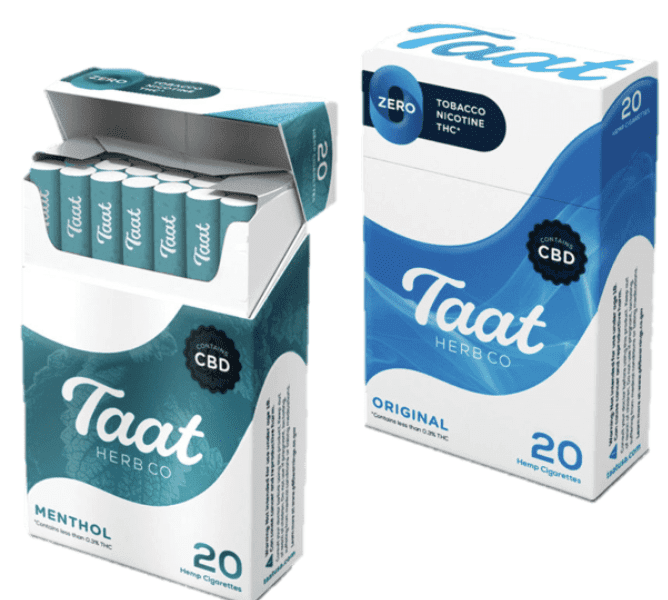 Trial runs with real smokers show that where other alternatives fail, smokers have taken to Taat cigarettes as an alternative that they can commit to. Feedback shows that it has all the taste of a premium cigarette and a more subtle smell and provides the exact same benefit in cutting down on anxiety through its mild CBD content. All this with no tobacco and no nicotine. Taat even managed to win over some cannabis smokers who had bad reactions to THC. Taat "Beyond Tobacco" is everything that the smoking population wants, with none of the side effects that they worry about.
NUMBER SIX: A PLAN FOR GROWTH
This all sounds wonderful for smokers, but investors should be getting excited as well. Taat is getting ready for an American launch in the middle of Q4 – it is going to be the hot topic very soon.
Taat has already prepared a list of carefully selected American states to begin distribution in, and has already partnered with key retailers in these areas. The sales support is being prepared for all these areas. Taat has already mapped out its manufacturing capacity and has a roadmap for expansion. When the sales in the initial states are successful, Taat has plans to expand to cover the American market.
The American market with its 14% smoking population is huge – but that's nothing compared to the potential global market, where less health-conscious governments have allowed smoking rates to skyrocket. Taat could be the product that knocks out tobacco on a global scale and the window is open to get in right now on the ground floor.
And, as mentioned, Taat already has the connections and baking to move into the truly massive Chinese market, which has more than half of all the male smokers in the entire world. Over 100 packs of cigarettes are consumed per person every year in China – even changing a few of those packs to Taats would be a game changer. 
GREAT FOR SMOKERS, GREAT FOR INVESTORS
For smokers trying to kick their addiction and move away from harmful tobacco products, Taat is the complete package – everything they needed and wanted in what they smoke. For investors it's the complete package as well. Taat is a company with great management, great backers, a great product, a great market and a great plan for expansion.
Alternative and innovative replacements to familiar consumables are where money is to be found in the market – we've seen replacements take off in sectors from food to energy. These alternatives always have to strike a balance between replicating what they replace while adding new benefits. "Beyond Tobacco" is a premium brand in alternatives, giving amazing replication with none of the severe harmful effects.  It's the perfect replacement in a trillion dollar industry.
Astute investors are already doing their diligence and moving on (CSE: TAAT). If interested in investing, talk to an investment advisor today.