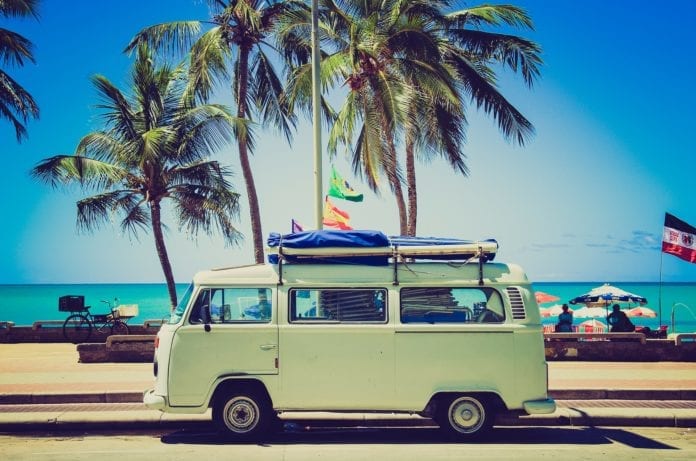 Like the waves crashing onto the beach in a late spring storm, stocks are a little choppy right now. However, some market analysts are predicting that will change with stocks rallying as the summer heats up.
Some stocks are outperforming, which is a positive sign,  knowing which are the best stocks to buy in 2018 could make it a summer to remember.
An analyst at Investor Place predicts the S&P 500 could have a major rally in the next few months. With 16-times forward earnings, stocks are trading at historically above normal valuation levels. With consumer confidence, wide economic strength, and tax cuts, earnings growth has had a big boost.
This amalgamation of historically above normal earnings and historically above normal valuation has the S&P 500 trading at a price-to-growth, PEG ratio of only 1. This low PEG ratio has only occurred twice in the last 20 years and both times the market presented a continuous long-term bottom, triggering stocks to rally off that low.
With stocks set to rebound, investors could be winners this summer. Market experts are predicting some sectors could gain the highest ground:
Summer travel vacations and global demand could put oil stocks on investors' best stocks to watch list.
Middle East tensions threatening supply and demand is up, so gas prices are set to rise. This might not be good news for travelers hoping to gas up and go, but it is good news for investors. Some market experts are whispering about oil rising to $100 a barrel by the end of 2018.
Exxon Mobil Corporation (NYSE: XOM) is looking good because of its oil price exposure and its volatility tempered by the company's size and dividend.
Technology's growth potential remains positive making a few tech companies the best summer 2018 stocks to consider.
Although tech stocks have been weak so far this year, they are set to rise this summer.  Once out of headline regulatory risk, these stocks should make a return to their long-term upward paths: Alphabet Inc. (NASDAQ: GOOG, NASDAQ: GOOGL); Facebook Inc. (NASDAQ: FB), Netflix, Inc. (NASDAQ: NFLX), and Amazon.com, Inc. (NASDAQ: AMZN).
Hollywood is set to release its summer blockbusters in theaters, as well as entice investors with a few of the best stocks to buy in 2018.
There are several reasons why Hollywood stocks could really take off this summer; perhaps most significant is the overall positive economic picture. Consumer confidence is still on the uptick. Wages are on the rise which heightens income expectations so people have more disposable income. Global and political tensions seem to be lightening up. All of these things point to a very robust economic backdrop for the consumer.
So far, Hollywood has put out some great movies in 2018, which has created a lot of buzz for a summer of must-see movies. Up until now, 2018 box office revenues are up almost 7 percent year-over-year, which is pretty significant. This time last year, revenues were less than half of this year's revenues at only 3 percent year-over-year. In 2015, box office revenues were up less than 5 percent year-over-year.
There is good news for both movie goers and investors looking for stocks to buy: this summer the content line-up is expected to be even better than it was in the first half of 2018.
Time Warner Inc. (NYSE: TWX) is rolling out Ocean's 8, a highly anticipated follow-up to the very popular Ocean's series.  A new Star Wars movie from family entertainment giant Walt Disney Co. (NYSE: DIS) will make its debut. For dog days binge-watching Netflix is launching a pack of highly-anticipated second season installments to their widely acclaimed original hits.
With great movies playing at local cinemas, movie theatre stocks such as AMC Entertainment Holdings Inc. (NYSE: AMC) should do well. For those inclined to enjoy watching films on their couches more than a fold-up theatre seat, pure-play streaming stocks like Roku Inc. (NASDAQ: ROKU), are looking good also.
The retail sector is starting to pop making it a best summer 2018 stock choice.
Investors were pricing retail stocks as if brick and mortar stores would go the way of dinosaurs with competitors like Amazon for much of 2016 and 2017, but that simply has not happened. Once retailers went through a period of right-sizing, their numbers are now optimistic.
Retail companies to watch are Target Corporation (NYSE: TGT), Macy's Inc. (NYSE: M), and Abercrombie & Fitch Co. (NYSE: ANF).
For those looking to combine shopping with watching television, a home shopping network offering stock at bargain prices might have potential as one of the best 2018 summer stocks to buy.
Owner of the home shopping channel Evine, Evine Live (NASDAQ: EVLV) might just be the deal of the summer with it trading at $1.29 on June 6, 2018. The average analyst price target of $2.13 spells out a 79 percent upside potential. Moreover, the company has been given a "Strong Buy" rating by four top analysts.
The potential sale of Evine to a strategic buyer is what has these analysts abuzz. Alex Fuhrman of Craig Hallum notes industry speculation points to Amazon as a possible buyer.  He thinks the purchase would be a wise move for Amazon as it would advance Amazon's presence in video commerce much less expensively than if they were to build their own platform.