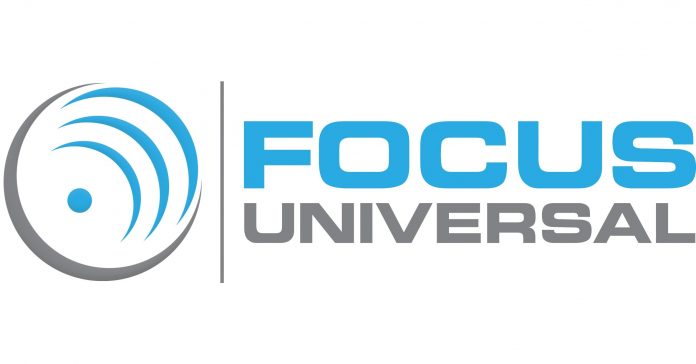 As many of you may have seen earlier this afternoon Focus Universal Inc. (NASDAQ: FCUV) announced pricing of $10 million public offering of common stock and uplisting to the nasdaq capital market.
First off lets discuss what Focus Universal Inc. (NASDAQ: FCUV) does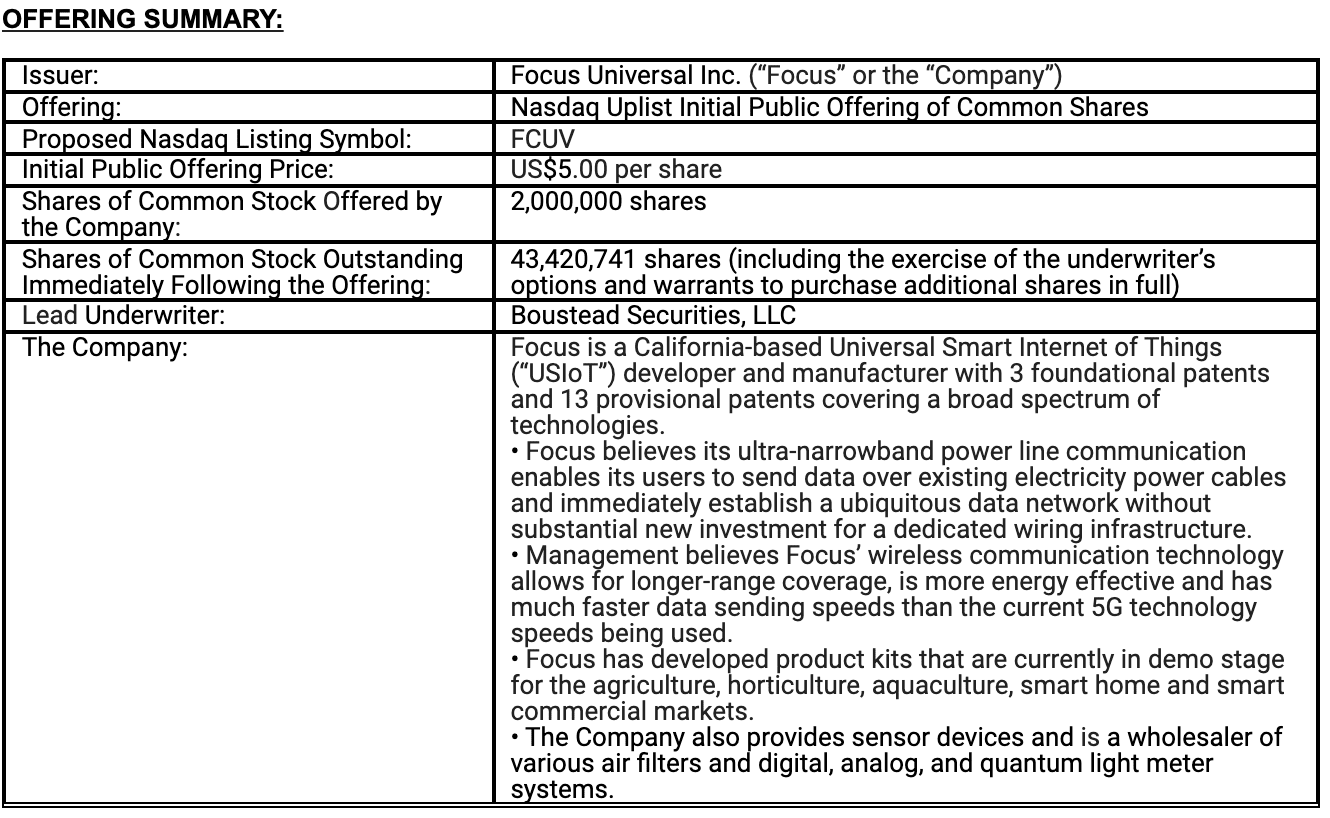 Focus Universal Inc. (NASDAQ:FCUV) is a provider of patented hardware and software design technologies for Internet of Things (IoT) and 5G. The company has developed four disruptive patented technologies to solve the major problems facing hardware design, hardware production, software design and network communication facing both industries today: (1) Universal Smart Instrumentation Platform; (2) Natural Integrated Programmable Language; (3) Ultra Narrowband Power Line Communications; (4) Ultra Narrowband Wireless Communication
Why We Think FCUV Could Be One Of The Nasdaq's Top Performing Stocks Tomorrow
Boustead Securities, LLC is the lead underwriter and as of late their plays have been on fire! (UTME, EBET, FLGC just to name a few!) If their name is attached you can bet the odds investors are in for great opportunities to profit.
2) FCUV is in a hot sector/space: Universal Smart Internet of Things.
3) FCUV has 3 foundational patents and 13 provisional patents covering a broad spectrum of technologies.
Focus believes its ultra-narrowband power line communication enables its users to send data over existing electricity power cables and immediately establish a ubiquitous data network without substantial new investment for a dedicated wiring infrastructure.
Management believes Focus' wireless communication technology allows for longer-range coverage, is more energy effective and has much faster data sending speeds than the current 5G technology speeds being used.
4) Focus has developed product kits that are currently in demo stage for the agriculture, horticulture, aquaculture, smart home and smart commercial markets.
The Company also provides sensor devices and is a wholesaler of various air filters and digital, analog, and quantum light meter systems.
In short its a rare uplisting opportunity to take advantage of by an all star underwiter who has been on fire lately. We have no doubt that astute investors will be watching (NASDAQ: FCUV) tomorrow morning. The question is . . Will You?
For your convenience here are the links to the S-1/A Registration Statement and Free Writing Prospectus for further dd :
S-1 Registration Statement, dated August 19, 2021 :
https://www.sec.gov/ix?doc=/Archives/edgar/data/1590418/000168316821003791/focus_is1a4.htm
Free Writing Prospectus, dated July 23, 2021 :
https://www.sec.gov/Archives/edgar/data/1590418/000168316821003070/focus_fwp.htm