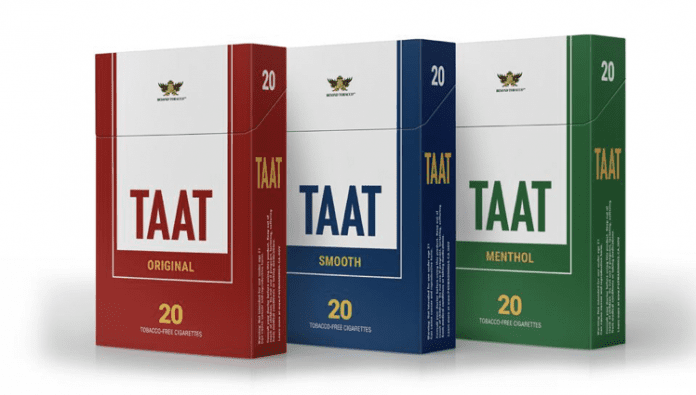 On April 16th, TAAT™ LIFESTYLE & WELLNESS LTD . (CSE: TAAT) announced that WWV (Worldwide Vape) had made a USD $1 million order for a wholesale order of TAAT™ Original, Smooth, and Menthol. This order is going to be delivering batches of all TAAT™ products throughout 2021, for distribution in the United States. These orders are going to start being fulfilled throughout the rest of April. WWV is going to give TAAT access to nearly 10,000 retail stores across 38 American states.
In the face of the pandemic, TAAT is taking off, and it's happening right now.
Do You Know TAAT?
Some of you might be wondering what the big deal is – and that means you've missed out (so far) on one of the most exciting stock opportunities out there. TAAT Lifestyles manufactures hemp cigarettes, that look, feel, smell and taste like regular cigarettes. Even the paper they're folded into makes the same noises when you handle it. For all the senses – they are cigarettes.
Except, TAAT's product has only hemp – no nicotine, and no tobacco. The only active ingredient is CBD. TAAT doesn't just make a "light cigarette" or a "filtered cigarette" – they make a total cigarette replacement, but with nearly none of the downsides of a cigarette.
A Cigarette With No Tobacco? Really? 
TAAT was first dreamed up by Joe Deighan (the maker of the first hemp cigarette to hit the market, Wild Hemp) and Setti Coscarella (previous head of the Alternative Tobacco division at Phillip Morris. Coscarella carefully researched  Joe Deighan, the maker of Wild Hemp, the first hemp cigarette to ever hit the market. He has refined the process and teamed up with a new CEO, Setti Coscarella,  who ran the Alternative Tobacco division at Phillip Morris. 
Coscarella has a wealth of expertise in market research on what attracted cigarette smokers to the habit. He knew that it wasn't just the nicotine – otherwise, nicotine gum and pills would work for everyone. He realized that lighting and smoking a cigarette was an experience that went beyond nicotine.
A Massive Market, a Competitive Edge 
The global cigarette market is estimated to be worth over $800 billion dollars. There are as many cigarette smokers in China as there are people in all of the United States. The cigarette market isn't just massive, it's unique. It's difficult to think of another product where so many people want to stop purchasing it for health reasons, but feel they have no alternative. It's a market that is begging for alternatives – but most alternatives just don't work for smokers.
Not only does TAAT provide the same experience for no side effects, because it lacks nicotine, but it can also do it significantly cheaper. While heavy taxing might make a box of cigarettes cost 7$ or more (depending on the state), a pack of TAAT cigarettes will go for about $4.00. Not only is TAAT the healthier option, not only does it give the same experience as the unhealthy option – it's the more cost attractive option as well. 
Why This News Matters
TAAT™ entered the American market in the 4th quarter of 2020, starting in Ohio and growing at an average rate of ten new store placements per week. The WWV deal is poised to boost this growth immensely.
WWV is an entity with a vast network of e-cigarette retailers within the U.S, as well as an online storefront specializing in e-cigarette hardware. WWV is confident that its clientele, which is often seeking a healthier replacement for traditional cigarettes, will be a prime market for TAAT™. 
WWV Chief Executive Officer Muhammad Abbas has commented that "In the vaping business, it is common for smokers aged 21+ to try electronic cigarettes as a substitute for smoking tobacco. However, we are regularly told about how they miss the sensation of igniting a cigarette, tasting and smelling the tobacco as it burns, seeing the smoke as they exhale, and flicking ashes in between drags. With our nationwide reach, we could not be more proud to place an order of this size with an objective of being one of the catalysts in distributing TAAT™ to retail stores in several new U.S. markets."
TAAT had already begun to launch its products online in February of 2021. The access to the popular WWV online store, as well as placing TAAT™ into the stocks of all of its retailers, is a huge step for TAAT's growth within the North American market. 14% of Americans are smokers in some form or another. The pandemic has made Americans look for sources of stress relief, while at the same time made the importance of respiratory health vividly clear. 
TAAT Has Every Advantage – And So Do Its Investors
It was never in doubt that major investors were interested in putting their money on TAAT. In October, Hong Kong-based Horizon Ventures (the business that manages the private investments of Sir Li Ka-Shing, the 30th richest person in the world) put millions of investment dollars into TAAT.
The million-dollar purchase by WWV shows that the faith of those initial investors was well placed and that the TAAT has managed to successfully transition from market launch into real growth opportunities. Those initial investments served as a wake-up call to those on the fence to get involved. This deal serves as a second reminder of how much of a gamechanger TAAT stands to be in a market that is ripe for a shakeup.