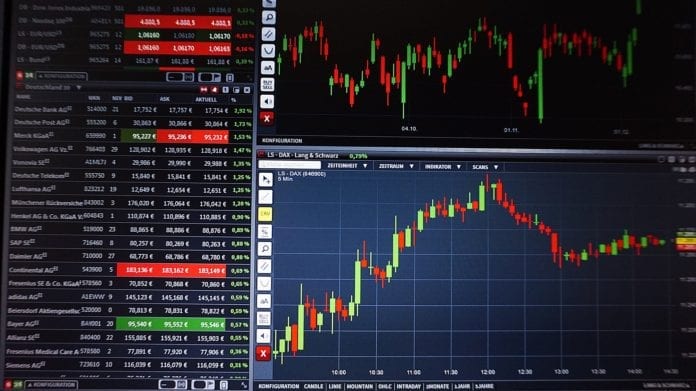 It should come as no surprise to investors that world events have the very real potential to affect the stock market. At least so far, there have been no major shakeups, but this might just be the beginning. The two-day Fed policy meeting started on June 12; however, stock market futures and other overnight action do not usually impact the next regular trading session.
President Trump and Kim Jong Un kicked off their momentous meeting in Singapore shortly after 9 a.m. Tuesday local time, or 9 p.m. ET Monday.
The cautiously hopeful outcome of the Trump-Kim Summit seems to have had a minimal influence on stocks.
The Trump-Kim summit agreement had no schedule and no clear avenue toward peace. The document was absent of the words, "complete, verifiable and irreversible." President Trump did say that he would suspend "very expensive" U.S.-South Korea military exercises, and that he would like to remove American troops from South Korea.
President Trump proclaimed the agreement as "very comprehensive," but conceded more work needed to be done. Trump said U.S. sanctions will remain in force until such time North Korea's nuclear program is "no longer a problem." He praised Kim for entering into negotiations with the U.S., a longtime foe of North Korea.
President Trump told reporters "People thought this could never take place.  It's a very great day, it's a very great moment in the history of the world."
In the very least, the pledge between the United States president and the North Korean leader to denuclearize has eased the risk of a violent clash between the two countries, after months of rising threats coming from both sides.
U.S. stock market indexes are trading marginally higher as traders turn their attention from the Trump-Kim Summit, to the start of the central bank meetings with the Federal Reserve.
On June 11, 2018, the Dow Jones Industrial Average (DJIA), the S&P 500 (SPX), and the Nasdaq were all up with the DJIA and SPX only slightly down on Tuesday, June 12.
The Fed, led by Jerome Powell is poised to raise interest rates on June 13, the second day of the U.S. central bank's two-day meeting. In addition, the European Central Bank is expected to announce its schedule for relaxing its bond buying when they meet on June 14.
Managing director of sales and trading at Themis Trading, Mark Kepner says, "It is a relatively quiet day because investors are reluctant to make any big moves ahead of two central bank meetings. At this point, the ECB meeting is far more important than the Fed's, because investors pretty much expect a rate hike in the U.S.  But in Europe, even a speculation about a possible discussion of ending bond purchases moved rates."
In the days after the Trump-Kim summit and the bank meetings, a few companies are emerging as smart stocks to invest in.
Twitter Inc. (NYSE: TWTR) surged 6.5 percent once J.P. Morgan analyst Doug Anmuth raised his price target to $50, making it the highest among the 37 analysts surveyed on FactSet.
Weight Watchers International Inc. (NYSE: WTW) jumped up to a record high of 6.2 percent after a J.P. Morgan analyst bull said it was time to "stop watching from the sidelines."
Galmed Pharmaceuticals Ltd. (NASDAQ: GLMD) came very close to tripling after their drug for treatment of nonalcoholic steatohepatitis posted successful trial results.
Sage Theraputics Inc (NASDAQ: SAGE) shares rose 4.5 percent on the heels of the company's plans to speed up the development of their drug for treatment of depression.
There are a handful of stocks posting significant gains vying for investors' attention as smart stocks to buy now.
High-end furnishings retailer R H (NYSE: RH) reported a 4.8 percent rise which brought it to a new high of 118.73. The company had a blockbuster first-quarter earnings of 2,560 percent to $1.33 per share, easily trouncing analyst predictions of $1.01.
Dave & Buster's Entertainment, Inc. (NASDAQ: PLAY) has some analysts excited about the arcade and sports bar's virtual reality game "Jurassic World VR Expedition," which will debut on Friday, June 15. The company's 10th consecutive gain saw shares rising 14 percent in early trading on June 12. Additionally, the company moved back above the 200-day line for first time since August 2017.
Specialty chemicals manufacturer KMG Chemicals (NYSE: KMG) has risen 5.6 percent, earning $1.10 a share, which is up 107.5 percent from this time last year and trouncing analysts' views of $.87. KMG's revenues have catapulted to $109 million, sticking its head above its $103 million estimates to ultimately leap 45 percent.
Young adult clothing retailer Urban Outfitters, Inc. (NASDAQ: URBN) saw a recent rise of 4.4 percent with shares closing up at 1.3 percent at 47.02, a new high.
Google's parent company Alphabet (NASDAQ: GOOGL) hopped up to 1,140.90, a .7 percent gain. Google's stock is not leading, but it is moving in line with the market. The company is seeing bullish action of late; however, investors may not want to rush to buy Alphabet stock just yet due to its struggling relative strength line going back to a year ago, perhaps back to the start of 2016.